Ministry of Women and Children Affairs (MOWCA) job circular 2018. MOWCA recently announced their new job circular some daily newspaper and some online news portal. MOWCA means Ministry of Women and Children Affairs. It's a government job. It's a good news that MOWCA recently publish their new Job circular for some vacant various positions and we provided here full job details with the full requirement and how to apply for this job. You can see full job circular www.allresultbd.org it's the largest Job portal website in Bangladesh. Government Jobs only for lucky and intelligent people so don't wast your time try it now. So we tell you that if you are a qualified candidate for this JOB you can Apply now.
Job Summary
Organization Name: Ministry of Women and Children Affairs (MOWCA)
Post position: As per the circular
Application Published Date: 03 December 2018
Application last date: 23 December 2018
Job Type: Government Jobs
Source: Online job portal
Official website: www.mowca.gov.bd
Total Post: See the circular
Salary : 09,700 – 16,700 Taka
Application Procedure: To Follow Job Circular image
Job Requirements
Age Limit:-30 years
job location: Dhaka
Application Fee: See circular below
See Ministry of Women and Children Affairs (MOWCA) job circular 2018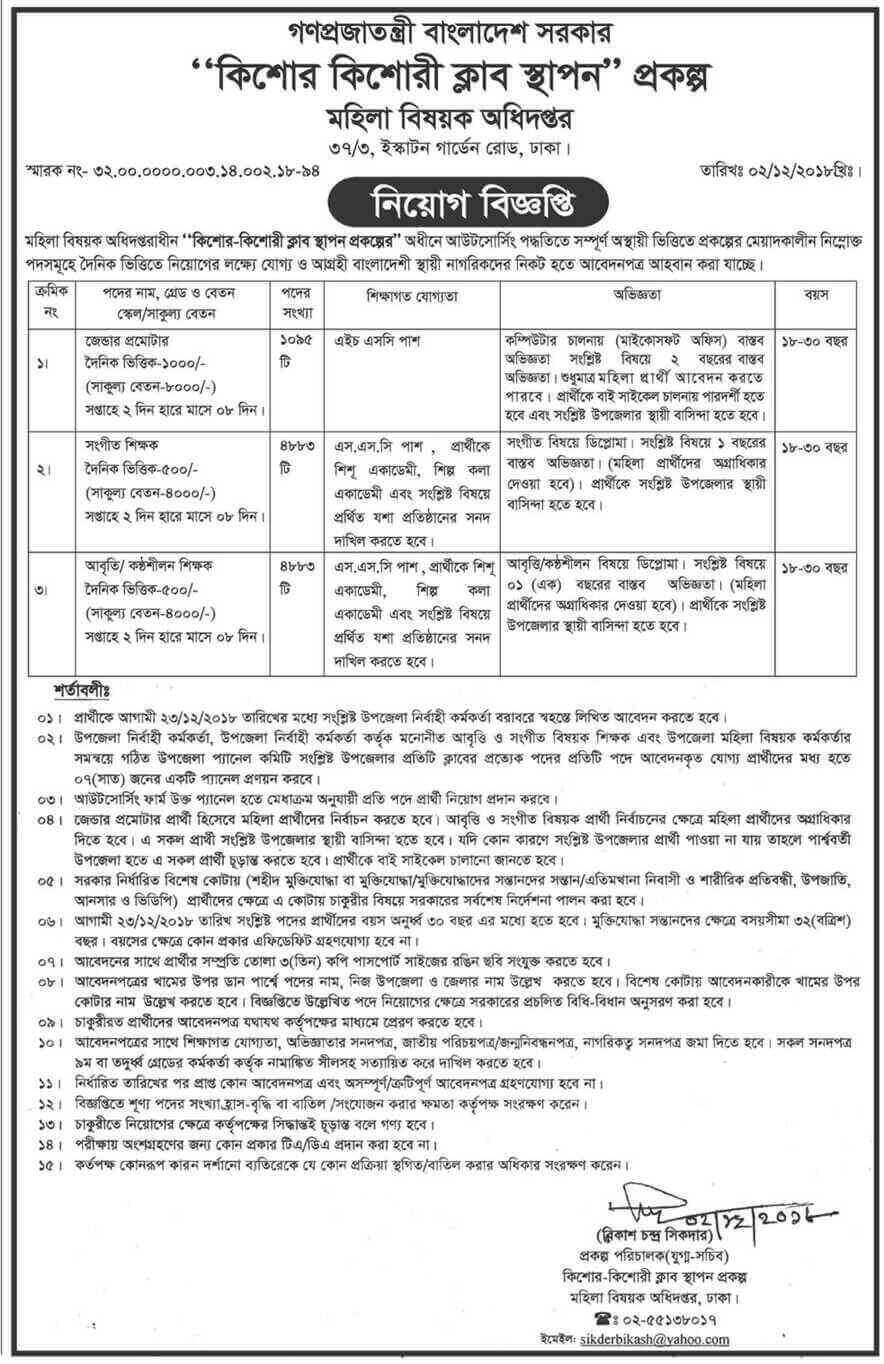 Everyone knows that the value of a government Job for a better feature but every people cannot get this because every people are not perfect for this. We also know that how many important a job for who finding a job for a better life. So we publish all types of job in our website www.allresultBD.org. Here we provide every type of Job circular like as, Govt Jobs, Privet Jobs, NGO jobs, Part time jobs, call center jobs, Marketing jobs, defense job, bank Job, Farmacritical job. Our goal is helping to find jobs people who really need a job. So we tell you that If you want to get all update job news and latest job circular in Bangladesh please stay with us and Join our Facebook group and like our Facebook page. Thanks for visiting our website. Please share this jobs with your finding friend who need a good job we suggest you that it's a better opportunity for your friend.
More Jobs
Bangladesh Ansar Bahini Jobs Circular 2018
Bangladesh Army Job Circular 2018
Bangladesh Youth Development Jobs Circular 2018