Cantonment Public school and college Job Circular 2019. Recently cantonment public school and college publish a new job circular some popular newspaper and we published this circular in our website www.Allresultbd.org. we would you like that cantonment school and college is a government organization. The good news that recently the education board publishes this circular for some new manpower for various empty post. However, if you are interested in school and college jobs in Bangladesh we can say it's a great opportunity for your career.  You can see all the details of the jobs at our site. We add the circular image into our site and if you want to apply from here, you can do it so Apply Now.
Job Summary
Organization Name: Cantonment Public School and College
Post Position Name: Various Positions, Please, See Job Circular Image.
Job Source: Online Job Portal
Job Type: School and College Job
Job Published Date: 21 December 2018
Application Deadline: 27 December and 05 January 2019
Salary: Negotiable
Educational Requirements: See Job Circular Image.
Experience Requirements: See Job Circular Image
Jobs Requirements:
Number of Job Vacancy: As per the circular
Age Limit For Jobs: See Job Circular Image
Jobs Location: Anywhere in Bangladesh
Job Nature: Full-time
Employment Type: Permanent
Applying Procedure: To Follow Below Job Circular Image.
Cantonment Public School and College Job Circular 2019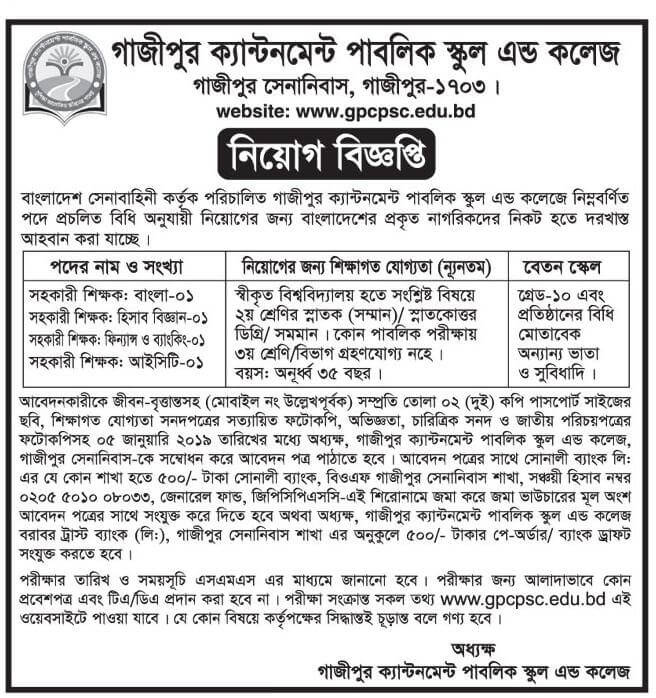 If you want to know more educational jobs news in 2019 like government school job, privet school jobs, please visit regular AllresultBD.Org. we provided you all types of jobs news and information such as Recent government job news, Bank Job news, privet jobs news, University jobs news, online news portal jobs, prothom alo jobs news, soptahik chakrir potrika, international job information 2019, NGO job circular news, multinational job circular news and you can see more latest jobs news from our site. Please stay with us like us on Facebook and join our facebook group. Hope you benefited from our website if you visit regularly. Thank's
More jobs…